Despite its redesign three years ago, the New 2022 Ram 1500 remains a remarkable model. The new Ram remains to be efficiently powerful with exceptional interior features and technologies. If you plan to tow trailers or perform heavy tasks under challenging terrains in Plymouth, IN, then the 2022 Ram 1500 is your best option. It can also perform equally effectively on highways or busy streets. We provide quality 2022 Ram 1500 at Auto Park Chrysler Dodge Jeep Ram. Feel free to visit our showroom for a closer experience of this powerful machine.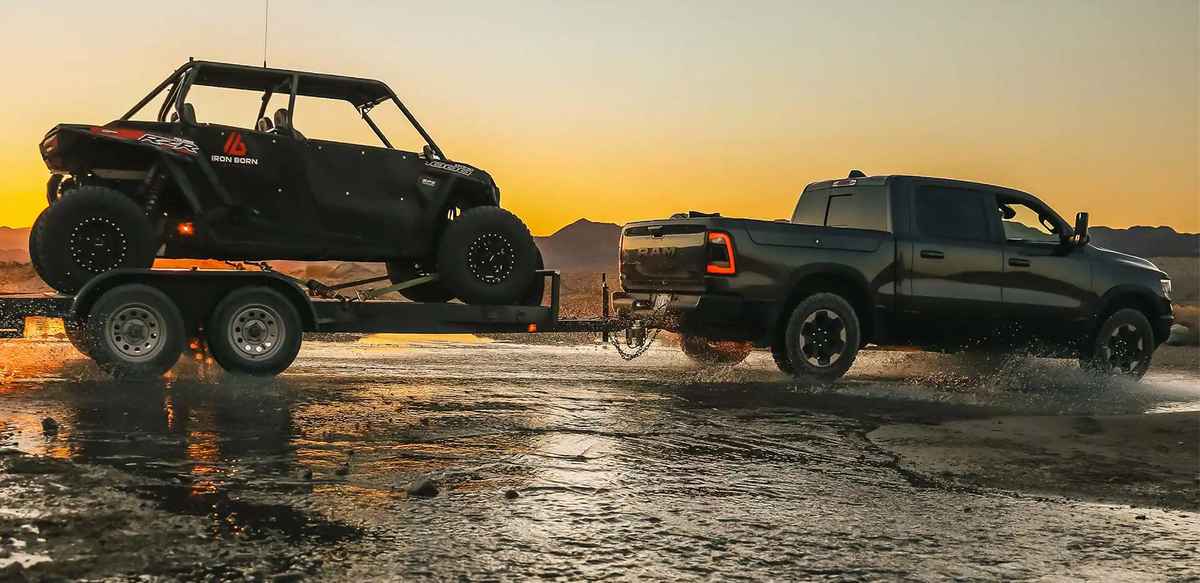 Powertrain
When it comes to performance, the 2022 Ram 1500 still comes with a standard five-liter V8 engine. This eight-cylinder engine can generate 395 horsepower and 410 pounds per foot of torque. It has a better towing capacity than its competitors, and it can tow up to 10,450 pounds.
The new 2022 Ram 1500 also comes with two diesel engines. The first diesel engine is a 3.0-liter Power Stroke V6 capable of producing 250 horsepower and 500 pounds per foot of torque. The second is a 2.7-liter Cummins I4 with output power reaching 215 horsepower and 375 pounds per foot of torque. Both diesel engines offer 20% more fuel-efficient than their gas counterparts. Also, they can tow up to 10,020 pounds respectively, which means any heavy-duty jobs in Plymouth, IN are best tackled with this model.
Drivers will love this model as it can accelerate from 0-60 mph within 5 seconds with a top speed of 130 mph. It might look massive and heavy, but its power and speed are undisputed. Also, its maximum payload and the maximum Gross Combined Weight Rating (GCWR) are 9060 and 15,000 pounds, respectively.
Interior Features
Inside the new 2022 Ram 1500, you will find an eight-inch touchscreen display screen that can integrate interactive apps like Apple CarPlay and Android Auto. These two-app interfaces allow you to bring your smartphone's features into the dash system. The new Ram 1500 also features an integrated 4G LTE Wi-Fi hotspot, enabling you to connect to seven devices. It comes in handy in areas around town that have a slow connection.
The new Ram 1500 is also designed with a rearview mirror to display what's on the camera monitor mounted on the tailgate. The feature is helpful if you need to back up your trailer in tight spots.
Safety Features
If you plan to purchase a new car, safety should be your top priority. Auto manufactures are working on making their vehicles safer for drivers and passengers. The 2022 Ram 1500 is not an exception to this. The New 2022 Ram 1500 has an available list of safety features like lane departure warning, forward collision warning, and adaptive cruise control. Also, it has autonomous Emergency Braking with pedestrian detection, a 360-degree surround-view camera system, adaptive speed control with stop and goes capability, automatic park assists. You can also purchase other options like blind-spot monitoring and cross-traffic warning.
Trims
The 2022 Ram 1500 is available in four unique trim levels. The Tradesman, Big Horn/Lone Star, Laramie, and Limited are designed for heavy-duty work on construction sites and are suitable for everyday use.
The Tradesman - features a heavy-duty engine, an eight-speed auto transmission, and a four-wheel drive. It comes with basic features like an air conditioning system, a six-speaker sound system, and power windows.
The Big Horn/Lone Star - features a four-wheel drive, an 8.4 inches Uconnect touchscreen display screen, and voice command.
Laramie - comes with all the features found on other trims like four-wheel drive, adaptive cruise control, air conditioning system, and eight speakers' sound system.
Limited - it is the most luxurious trim level of the New 2022 Ram 1500. It has all the features found on other trims, plus a panoramic sunroof and chrome accents.
Visit Auto Park Chrysler Dodge Jeep Ram Today!
If you wish to buy the 2022 Ram 1500, please visit our showroom in Plymouth, IN. Be sure to book a test drive, too.