Whether you're an avid pickup truck fan or considering investing in your first one, you probably already recognize how competitive this automotive category is. While various brands attempt to take the top spot of the truck segment, there's one model that already stands tall above the competition, the 2022 RAM 1500. To give you a better idea of why this RAM is the right pickup truck for you, Auto Park Chrysler Dodge Jeep RAM is highlighting how it outshines a popular rival, the 2022 Ford F-150.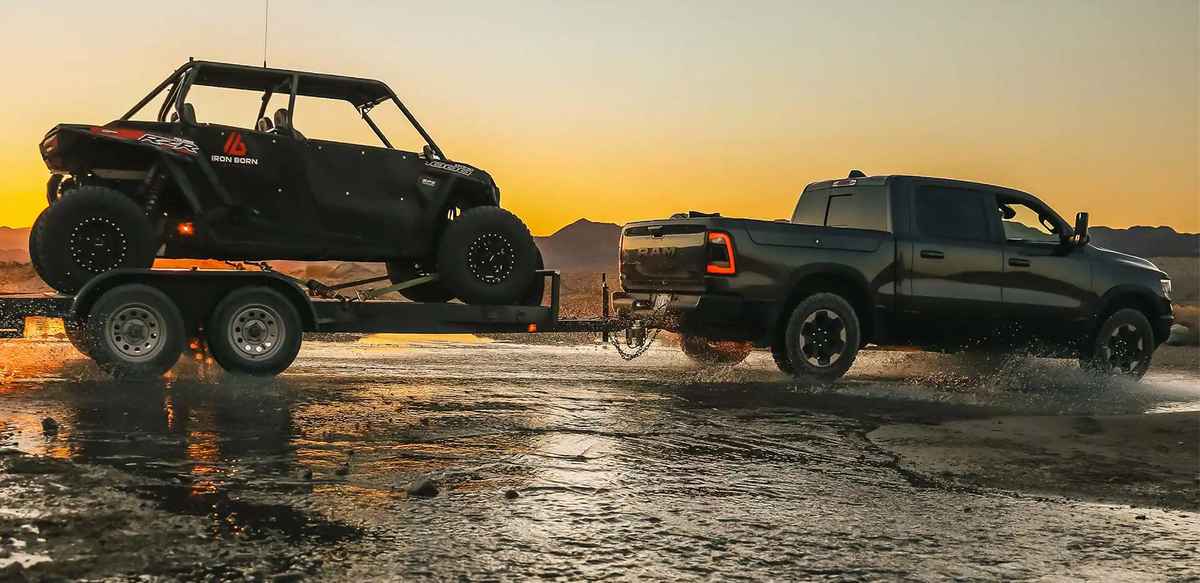 Engine Lineup Comparison
To make your decision on a suitable powertrain easier, the new RAM 1500 offers five excellent engine options, any of which will impress you with its immense power ratings. The new Ford F-150 offers six engine options, making it slightly more difficult to figure out which one works for you.


When you upgrade to the new RAM 1500, you'll get to enjoy the added efficiency and torque of a mild-hybrid system as standard equipment, which will help with your adventuring or projects near South Bend. The new Ford F-150 offers a hybrid powertrain but only as a costly upgrade.


The base engine for the 2022 RAM 1500 is a lively 3.6-liter V6 that generates a whopping 305 horsepower, which is plenty for any task or trail that lies ahead of you. The Ford F-150 comes standard with a less powerful 3.3-liter V6 that produces just 290 horsepower.
Differences in Performance and Capabilities
Both trucks have no trouble pulling massive loads of materials and equipment, but they differ in payload capacities. The 2022 RAM 1500 near Mishawaka, IN, can haul up to 2,300 pounds in the standard configuration. The base Ford F-150 can only haul up to 1,840 pounds.


You can opt for off-road-oriented trim packages for the new RAM 1500 and Ford F-150, but you'll appreciate the immense power of the RAM 1500 TRX. Powering this unique off-road trim is a 702-horsepower supercharged V8, which outperforms every engine option for the new Ford F-150, even on the F-150 Tremor.
Comparing Cabins
The 2022 RAM 1500 showcases a stunning interior that will make any drive to the job site or grocery store a joyous occasion. You can even get the base configuration with supple and stylish synthetic leather upholstery, something you won't find in the lower trims of the new Ford F-150.


Having plenty of interior storage cubbies will help you keep your smaller tools and cargo items organized during travel and work, and the new RAM 1500 comes with numerous storage compartments inside this roomy cabin. The Ford F-150 offers a lot of interior storage area but not quite as much as its RAM rival.
Highlighting Tech and Safety Differences
Are you someone that enjoys listening to music to get pumped up for the day ahead? Then the new RAM 1500 is the truck for you as it offers numerous upgraded stereo systems for even better sound quality. The new Ford F-150 also offers optional audio systems, but not as many as this RAM pickup truck near Warsaw, IN.


Each truck leaves most of the advanced safety technologies for higher trim packages. However, the new RAM 1500 comes standard with a rearview camera to make backing up to your trailer or parking spot less stressful.
Upgrade to the 2022 RAM 1500 Today
Ready for a pickup truck that beats out most of the competition? Then come to Auto Park Chrysler Dodge Jeep RAM to purchase or lease the reliable and muscular 2022 RAM 1500 today.