Are you looking for an SUV that continues the dependability and performance you are used to? We at Auto Park Chrysler Dodge Jeep Ram have that car in stock for you, the 2022 Wagoneer.
The new Wagoneer has all the characteristics of its predecessors with a modern design. The exterior has an authentic and stylish look, while the interior has the creature comforts and seating you desire.
However the exterior and interior of the vehicle are just the beginning. The main features that will grab your attention are its powertrain, safety, and security.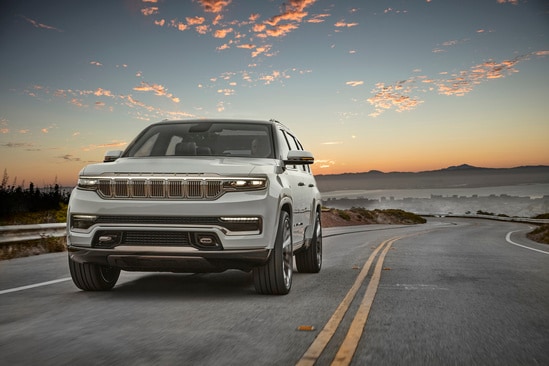 Powertrain
The Wagoneer's 5.7L V8 engine gives 392hp, 404 lb-ft of torque and allows the towing of up to 10,000 pounds. You will be able to handle various tasks on any driving surface in Plymouth, IN with the turn of a dial. With the Selic Terrain Traction Management System and all-wheel drive, any driving surface such as snow and rock can be easily handled.  There is nothing that cannot be hauled using the available tow hooks sitting atop available 18-inch and 20-inch all-terrain tires. Both the Series II and Series III models are mild hybrids that produce efficient driving without sacrificing horsepower. You will be pleased with how the car moves with its electric power steering, 8-speed automatic transmission, and anti-spin differential. It also comes with a maintenance-free battery you will find impressive. The rear-load leveling suspension will ensure the car maintains a specific ride height when heavy materials are put in the back of the vehicle.
Safety
Not only does this SUV deliver on performance, but its safety features are top-notch. The available 360° surround camera allows everything around the car to be seen when in reverse. This, as well as the parallel parking feature, will be very helpful when parking. You will be kept in your correct lane with the sensors from the lane management assist, while the cruise control keeps the vehicle at a safe distance from others. This intuitive vehicle can detect cars and people in your blind spot while backing out or changing lanes in Plymouth,IN. The chassis' high-strength steel construction helps protect you and your family during an accident, and there are airbags strategically positioned throughout the vehicle to minimize injury.
Security
While the Wagoneer's safety features are a standout, its security is worth noting. The panic alarm can be activated from several feet away by the key fob. When the vehicle is started remotely, the sunroof and windows cannot be opened. There is a security system that monitors the vehicle, and neither the doors nor the power liftgate will unlock. The available intrusion system monitors the interior for motion, while the tilt sensor is sensitive to any movement like towing or tire movement. The vehicle's special immobilizer stops unauthorized use. The car can only be operated by key fobs that are programmed to it, not another car's key fob.
You Will Not Be Disappointed
There are two models to choose from, so you can find the one that's right for you. No matter what model you choose, you will get the performance, security, and comfort you have come to expect from the traditional classic Wagoneer. There are various exterior and interior colors for you to mix and match. You will not be disappointed. This car will not slow down while taking on your everyday jobs. Whether you are driving around Plymouth, IN or cruising the open road, it will give you effortless performance.
Visit Auto Park Chrysler Dodge Jeep Ram Today
We at Auto Park Chrysler Dodge Jeep Ram know that once you get into our showroom, you will be enthused by what you see. We can take you for a test drive and answer all your questions. We are confident you will drive away in a new Wagoneer.